Born in Montreal, Canada, Lori Waxman is a Chicago-based critic and art historian. Her column 'Art at Large' appears bi-weekly in the Chicago Tribune, and her reviews and articles have been published in Artforum, Artforum.com, Modern Painters, Gastronomica, Parkett and Tema Celeste, as well as the now defunct Parachute, New Art Examiner and FGA. She is the co-editor and co-author of the book Girls! Girls! Girls! in contemporary art (2011, Intellect Press, UK) and one of three contributors to Talking with Your Mouth Full: New Language for Socially Engaged Art (2008, The Green Lantern Press).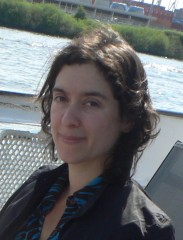 She has written catalogue essays for small and large art spaces, including: Spertus Museum, Chicago; threewalls, Chicago; SPACES Gallery, Cleveland; Institute of Visual Art, University of Wisconsin, Milwaukee; Turpentine Gallery, Reykjavik; and Dieu Donné Papermill, New York. She has published essays on Arturo Herrera, Jenny Holzer, William Cordova, Eugenia Alter Propp, Raissa Venables, Gordon Matta-Clark, Joel Sternfeld, Emily Jacir, Taryn Simon, Ranbir Kaleka and Christa Donner. Waxman teaches art history at the School of the Art Institute of Chicago and has a PhD from the Institute of Fine Arts, New York University, where her doctoral research considered urban walking as a revolutionary aesthetic practice of the 20th century.
She received a Creative Capital/Warhol Foundation Arts Writers Grant (2008) for her project 60 wrd/min art critic, which is traveling to venues around the United States through 2012.